Aussies too slick - view from inside the Revos
Monday, January 23 2006 @ 07:51 am ACDT
Contributed by: Brett Northey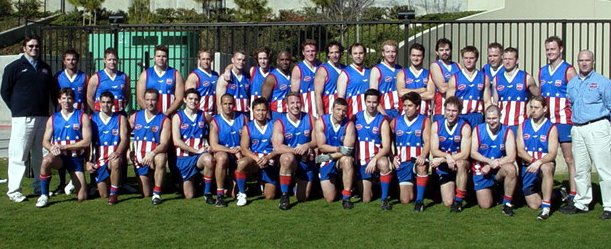 Mike 'Scuba' Russell wasn't expecting to suit up for his country when he attended the AFL exhibition match in LA but wasn't about to say no to such an honour. Here he gives us a forthright, first hand account of his day playing for the US Revolution team, made up of all American players. They took on the Aussie All Comers side at the UCLA last week as the curtain raiser to the Swans v Kangaroos match.
Being Part of the Revolution - by Mike Russell
Disclaimer: The opinions in this piece are those of the author and do not necessarily represent the views of the USAFL, its board, its member clubs or WFN.
Sometimes in life you get lucky. A wise man once said "half the game is just showing up", and gravely that's all too true. Thus, while sitting in on the US Revolution team meeting last Saturday, I was inadvertently presumed to be a self-nominated player, rather than an observer. Although I have been a player over the last six years, my attempts to make the Revolution cut have been universially rejected. This consequently led me to explain myself to the assistant coach, and I was surprised to be subsequently given the unique honor to represent the American side the following morning. I report this as a form of disclaimer, as this sets up several conflicts of interest. It is difficult to report fairly an event in which one is an active participant. Just try taking pictures of yourself while playing Footy. However, I'm much too selfish to pass up a chance like this, so you must forgive me my fun, and take my opinions with plenty of salt.
At 7:30 AM, in clear but chilly West Hollywood, USFooty offered a 'Champagne Breakfast', which was to be a chance to rub elbows with the AFL players, coaches, and royalty. Unfortunately, a mix-up caused an hour delay, and the restaurant was not prepared to open until 8:30, leaving both players and fans cold and hungry outside. Once food was hastily prepared, it was time to leave for the field.
At the ground, 9:00 AM, the sun was glowing brightly and warming the chill morning air. The crystal blue California sky was a welcome sight after a day of drizzle. We were given our uniforms without ceremony or debate. No dressing rooms, just a towel if you brought one and the gathering crowd to keep you company. We stood outside the gate, on a small patch of cement, kicking a water soaked ball back and forth.
The Revolution lacked the special orange wristbands necessary to take the field. Eventually, the coaches made a command decision, and we finally walked out to UCLA Intramural Field without their permission. Together we walked past security, together we walked across the field, and together we stood behind the bleachers and warmed up, because they wouldn't let us use the ground while the Swans were practicing on it. After a long, long time, we were told that we wouldn't be playing until 11:45, as the Steve Irwin Show was running behind. The opening game was to be inauspicious; we were to play outside, while the Irwin Show entertained 4000 people inside UCLA's Pauley Pavilion.
The President of USFooty, Rob Oliver, told us we would play two seventeen minute quarters, back-to-back without a break, followed by a five minute half-time, then two twenty minute quarters, again back- to-back. He said, "Time is of the essence", so the normal singing of our national anthems would be replaced by a quick hand shake.
Tom Ellis and Matt Dainauski are the Sun Tzu and Genghis Khan of American Footy. I have never had the privilege to sit in on the Champion Denver Bulldog's team meetings, yet I was so impressed with the quality of the coaching this weekend, that I have decided to become their next disciple. Coach Ellis knew exactly who we were up against, and laid out a clever strategy to win, and Dainauski reinforced this with specific orders and shrewd tips for each position. You know you're in the presence of great coaching when every player truly understands what needs to be done a full day before the event.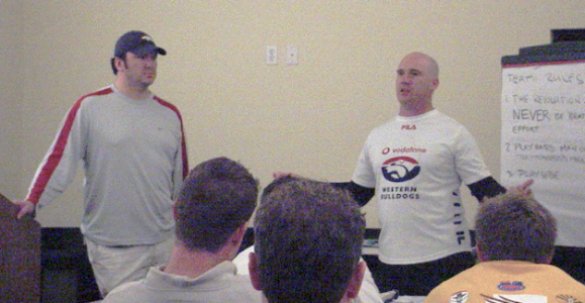 Dainauski and Ellis (aka Tzu and Genghis).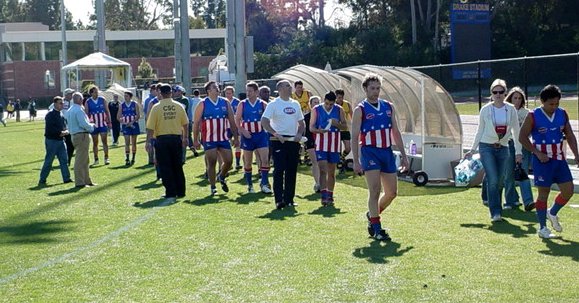 Some of the US players.
It was probably the most fun I've ever had playing Footy. My friends and heroes were around me, all wearing the Red, White, and Blue. I couldn't help smiling. There was almost no one watching in the stands, they were inside with the "Croc Hunter". There was a camera from Australia's Channel 9, and some guy in makeup telling the audience how everything was "So Exciting". But we were out there on our own, charged with the task of beating our Australian team-mates at their own game. So, what else could we do, we took it to them.
First blood we drew, with a quick goal from Dustin Jones, an American who once went to Australia on scholarship for a year just to master this sport. Then luck took a left turn, one of our strongest players, 'Revo' Captain, Donny Lucero took a head hit and had to come out of the game. He returned soon afterward, but wasn't as strong as he could have been. The Americans were hitting people left and right, but mostly chasing, rather than controlling. The Aussies came back mad, and by the end of the first quarter they had three goals to our one.
With no break, we switched sides of the field and killed the second seventeen minutes with more goals on both sides. One big, young 'Revo', Justin Valley, impressed me with at neat mark and goal. The slick grass, still wet from the previous day, sent men sliding at every turn, and soon people were coming off the field with pulled hamstrings and groin muscles. That's when I got my first little jog around the field (what a great feeling). At the half, we were down by two goals, but still in it, and willing to step up and pay for a win. The coach's were positive we could do it, and we believed them.
From my point of view on the field, it is hard to be objective about the Australian side, they didn't seem to play that much better than the Revolution, but that's not the story expressed by the score. I don't know the exact score at the half as the "scoreboard" a device usually used to announce traffic accidents on Los Angeles freeways, was all but unreadable.
Five minutes later, with no time to spare, they had us taking our chances again. The US player's had a strong will to play, but so did their opponents. Time after time an American kick ended up in the wrong hands. We chased the Aussies around like crazy, but we couldn't outrun their skills. We hoped to tire-out their big guns, but they always seemed to have one more on the bench. The US Coaches had planned to work around the wings, keep the ball out of their strongest player's hands, yet we ended up kicking right into the middle, right into the hands of the opponent. In the chaos, all our game-plans tended to break down, and the Australian guns kept firing.
The fourth quarter was our last chance. We threw everything at them with our starting line-up, but it didn't help. Our players were tired after butting heads for the last hour, with little water and a blazing sun. You could see salt trails running down our faces. In the off season our general fitness is lower and our skills were off from lack of practice, but there is no excuse, our US players made mistakes. The Aussies suffered the same kind of problems, but they started at a higher rung of the ladder. We could force them to make errors, to turnover the ball, kick into the goal posts, but then we couldn't do anything with the ball when we owned it. By the last quarter the fans had begun to fill the stands, I don't think we scored in that last quarter.

US Australian All Comers 9.11 (65)
US Revolution 4.4 (28)


More photos can be found at the AFANA photo gallery and at Women's Footy.
---
World Footy News
http://www.worldfootynews.com/article.php/20060123072133585