Hollywood encounter with the Swans and the Kangaroos is no B-grade movie
Sunday, January 15 2006 @ 04:09 pm ACDT
Contributed by: Troy Thompson
In the lead-up to this weekend's exhibition match between Sydney and the Kangaroos in LA, a training session was held for USAFL players with members of the AFL teams and dignitaries from the world of footy such as Ron Barassi - introduced to the American audience as being the "Vince Lombardi of Australian Football". Michael "Scuba" Russell reports for us from UCLA.
The day starts early, with a 7:00 AM meeting at the West Hollywood Hotel to pick-up tickets of this weekend's unique events at UCLA. Sitting there in the sadly dated, faux-70's, art deco lobby, it feels like we are on the set of another B-movie in this city of dreams. The US Revolution coaches are up early, training their charges to be responsible and show up when they tell them so. The newly appointed head coach of the all star American Revolution, Tom Ellis, and his assistant coach, Matt Dainauski, are not taking any excuses.
After a quick introduction they jump into their SUV's and head for the campus, driving down Sunset Ave. in Beverly Hills, you forget that there is a war on the horizon. The lush mansions pass by on both sides, giving the illusion of a land of endless wealth, where everyone has a castle. Then entering the UCLA campus and navigating the maze of underground parking garages under the very fields we will soon be playing upon, one gets the idea that everything is a facade. Green grass covering deep dungeons filled with expensive ($8/day) parking spaces.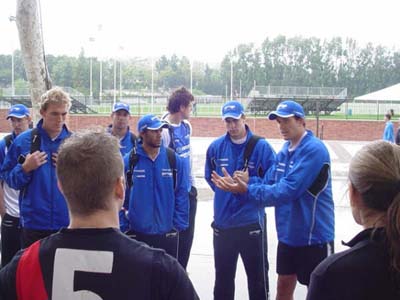 We come up out of the ground into the blustery weather. A rare winter rain storm approaches, and begins to drizzle as we warm ourselves for the chance of a lifetime, a full-on Footy practice, with not one, but two professional Australian Rules teams, the Sydney Swans and the North Melbourne Kangaroos, and it's only 8:15 AM.
Once the Swans show up, the USFooty, league president Rob Oliver calls us over to announce that only those who are here to join the Revolution will be allowed to train with the Swans, their time is limited and they don't want too many of us 'less important' participants slowing things down. At first I'm about to protest, we all payed our US$50 to get this opportunity, but then the rain starts falling, and the dry tent looks a lot more comfortable. I need to take some pictures and video anyway.
The Swans are incredibly fit. Every one of them looks to be about six- foot-four and full of muscle. Like a herd of tri-athletes turned into warriors, they sprint around the slick ground with the Americans. The drills take about 45 minutes, but everyone is drenched in sweat, mud, grass, and rain. None of those participating looks very skilled, as the ball skids and bounces out of their grasp. Kicks go wild and water makes every attempted mark look like a slip-n-slide world record. Their gear is soaked, they are shivering cold, and every American there is very happy.
Next we await the Roos, apparently more of them, so everyone can play, so we all pray for the sun to come out, but before the rain stops the Dean of Athletics at UCLA cancels our fun. They don't want us destroying their drenched intramural ground, so we compromise; we meet the blue clad Kangaroos in front of the Pauly Pavilion on the cement. There we go through a half-hearted set of 'favourite drills' before the players get sick of the charade and simply start joking with us. Soon we are all talking to players one-on-one, discussing cultural differences, their weight training regime and speculating upon the future of the sport in both our countries. This is the true treasure, to get access to this troop of sport celebrities, to talk to them like we do with our own team mates, and understand that except for their exceptional athletic abilities, their just like us.
Then just as quickly as it started, it is over and we must return to the quaint little Hollywood Hotel for a sandwich and some coaching inspiration. This is where it gets interesting, because the US is at a unique cross roads, those who began playing in the late 1990's have reached the end of their Footy life expectancy. If this sport is going to continue and grow here, it needs an infusion of new blood, and the younger the better. But those with dreams of glory, who have seen the beauty of this alien sport and emerged themselves in it, have grow older, yet the sport still needs a generation or so before Americans learn to accept it on its own terms. To achieve that day, US Footy needs supporters, coaches, and teachers, evangelists who will spread the great Footy Truth, that there is not a better sport on the planet.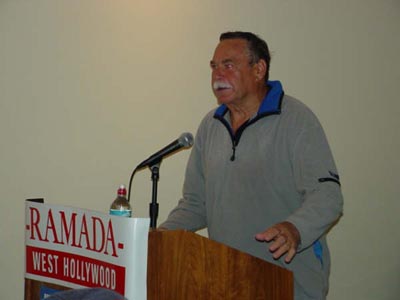 Allen Aylett, a former Australian Football League Chair, as well as a former VFL player, introduces us to a coach he calls the "Vince Lombardi of Australian Football", his name is Ron Barassi. Barassi we are told, signs his name with the number, which means 10 consecutive Premierships, like a US Coach going to ten NFL Super Bowls. This seems an impossible record, yet as this coach tells us his stories, what I come away with is not bragging of success, nor the expected story of glory, but simple truths that "you get out what you put in". Explaining that to become a coach requires much more commitment than a simple player, and encouraging our players to put in more, accept the challenge and thus reap the rewards of coaching. He states the truism that what creates a great sport are not great sportsmen, but the values that unite them.
Coach Barassi ends with a call for questions, and one knowing fan asks about his difficult carrier decision to switch to Collingwood. He explains how he didn't know how to make that decision, how he fought within himself, how he changed his mind over and over again, creating controversy and enmity. In the end he made the choice not to change not because of petty rivalry or a need for retribution, but to avoid eventually confronting his mentor he respected, as all students must eventually strike out and strive to create his own legacy. His words implying that each of us must take our path and do the same.
Rob Oliver, President of USFooty, came back up to evoke our persistence in the long-term pursuit of Footy success in the United States, and did something encouraging. Unlike some of his predecessors, he communicated his need for feedback, and asked for suggestions. This uncharacteristic humility for any Australian, much less this President, shows a willingness to seek advice, and bodes well for the future.
---
World Footy News
http://www.worldfootynews.com/article.php/20060115163929793