Ellis Takes Charge of Revolution: LA Weekend Preview
Wednesday, January 11 2006 @ 05:42 am ACDT
Contributed by: Troy Thompson
Views: 8,784

Alan Johnson is the Managing Director of the Ramada Inn in West Hollywood. He has strong links with the Australian Expat community in L.A. and with the North Melbourne Kangaroos as the ex-Chairman of the North Melbourne Football Club. His drive to make an AFL exhibition game happen as part of the Australia Week 2006 festivities will see Hollywood play host to AFL and USAFL football followed by a week long salute to Australia's other fine exports including the arts, food and wine, fashion. The local support is stong and it appears that the match will be a sell out. Here we preview the event and talk to first-time US coach Tom Ellis.
Festivities will get underway at the UCLA stadium on Sunday 15 January when the USAFL Revolution team (Non-Australians) take on a team of the best available Aussies currently playing in the USAFL. This will be followed by the AFL Kangaroos playing an exhibition game against the Sydney Swans. That such a game would take place has been touted for a number of years and in 2006 will finally become a reality. The Roos will bring a 30-man squad leaving a number of senior players at home, while the Swans are bringing their full squad to the US and an entourage of staff, supporters and sponsors numbering around 200, although Sydney coach Paul Roos has indicated it will be the younger players that will take the field. An article from the Herald Sun describing how the teams are approaching the match can be found here.
The USAFL have a big weekend of events planned (see Big Weekend for Footy in LA - UPDATE 14 NOV) to capitalise on this visit by the AFL clubs which most importantly will increase the knowledge base of coaches, umpires and administrators in the local game. The culmination of these events for the USAFL will be the curtain raiser match. The whole event should also be great for raisinf awareness of the USAFL amongst the AFL clubs.
This is not the first time the Revolution have played as part of Australia Week. In 2004 they played against a Californian All-Stars team with Tommy Ellis starting in the back pocket for the 'Revos'. The game was a very tight and tough encounter early on with the 'Revos' running out big winners 23.8 146 to 7.9 51.
Two years on Ellis has announced his retirement from playing for the Revolution and has taken on the role of Coach, vacated by Alan Nugent after the 2005 International Cup in Melbourne where the US team finished third. This week Tommy and his brother Charlie were featured in an article in the Colorado Community Newspapers.
We tracked down Ellis to ask him about the game.

WFN: It must be a huge honour for you to be named Coach of the Revolution Team?

Ellis: It is a huge honor to be named the Head Coach of the Revolution. I played in every Tournament this team has ever been in except the first game where Paul Roos was the Coach. I take this appointment with a lot of pride and I will do everything to make us successful.

WFN: Do you consider this an audition for the job full time leading into the 2008 International Cup?

Ellis: I think that yes it is an audition and hopefully I will do what I need to do on and off the field to give the selectors every reason to think I am the man for the job.

WFN: Is there any chance that if things aren't going well at half time we would see you pull on the boots?

Ellis: No I am satisfied in letting the players take care of business. At 37 the younger guys need to now step up. I am retired as a player no matter how much I want to play.

WFN: The side is heavily stacked with players from Western Clubs, is this due mainly to the distance and cost that there is not a bigger representation from other teams?

Ellis: I think that the reason for a heavy West presence is because of a few reasons. I think cost is one. But I think that we actually have a pretty good team showing up. I think we have some guys that are really going to impress, so I am very happy with the team makeup.

WFN: Who are the guys to watch out for on your team, particularly any new guys we should look out for?

Ellis: Some first time players are going to be Mike LaValley who is a product of the Collingwood Tryout in Denver. He is an Ex Goal Keeper and has fell in love with the game. He was BOG at the Nationals Grand Final for Denver and continues to get better and better. I think that Justin Valley should be a big guy coming up and doing real well. Chris Candelaria is a guy that was on the Rev's and is back. He is someone that will be a big part of our success.

WFN: Who are the big names missing from this squad that are unavailable that will be missed?

Ellis: Some of the bigger names not making it are the Brunmeier brothers from Milwaukee and Chris Carroll from St. Louis. All three players have playing experience in Australia and will be the leaders for the Revolution in the years to come.

WFN: Are you disappointed that this match is not being played against the Northwind Canadian team?

Ellis: I would have loved to play Canada but there is just not enough time to get it done. I am very happy the Aussie side getting to play because these guys deserve it. They are the leaders that have brought this game over to the USA and work endlessly to help promote the game. To be able to play a game before the Swans and Roos is something I know the Aussies from Denver are really looking forward to.

WFN: Speaking of the Aussies who do you think the players to look out for there will be?

Ellis: The Aussie Team has a lot of great players. O'Brien from San Diego (is an) Ex-AFL player and Brendon Feddama from Denver is also an ex-AFL player. I see these guys as the anchors on both ends of the field. They also have some great players in the middle including the BOG of the 2004 East-West game in Dallas, Grant Campbell.

WFN: What sort of game do you expect this to be, open and free flowing or close and tight?

Ellis:I expect the game to be close. With most clubs not playing right now I think that the start might be short on skills but should get better as the game goes.

WFN: What format will this game be played under, will it be 18 a side or a reduced version?

Ellis: It will be 18 a side.

WFN: How much do you expect to win by?

Ellis: I expect to win by 1. That's all you need.

WFN: What do you think this game will mean for your players?

Ellis: I think that the game is an honor to play in for the USA players. To be able to put on a Jumper and play representing your country does not come lightly. I think that the best part is after we get to see the Swans and Roos on US soil. There are going to be a lot of guys that have never seen this game in person. When they do I think they are going to become even bigger fans. Hopefully this will spawn an even bigger effort for all those watching to help promote this wonderful game here in the USA.

WFN: Thanks for your time Tom, anything else you would like to add?

Ellis: I would like to add that Matt Dainauski will be my assistant. He is the guy that introduced me to the game and has been a big part of my success. Since we returned from the International Cup and it was announced that I got the job at least for this game, lots of ex Rev's players have been putting their hand up to help. I think that for the next International Cup in 2008 there are going to be a lot of Ex-Revs players behind the scenes helping the next team win. It is very exciting to see so many guys want to help and I hope that the next cup sees an All-American Revolution. I look forward to the weekend.

WFN: Thanks for your time and good luck.
worldfootynews.com is also running a poll on who will win the Revos versus Aussies match, and at time of writing it seems that the count is roughly 2 to 1 in favour of the Aussies - surely good ammunition for US coach Ellis.
Note to all those asking regarding TV coverage - at this stage it doesn't appear as though there will be a full telecast into Australia, despite the general public craving footy at this time of year. It is thought there may be some snippets later - we'll advise if details are found.
Squads as announced on USFooty Website

Revolution Team


Bruce Beilfuss - Milwaukee Bombers, Brandon Blankenship, Jeffrey Blankman, J.J.Cisneros, Martin Mondia, Justin Valley - San Diego Lions, Kent Blasingame, Niel Ditts, Brandon Bumbert, Rob Luto, Michael Spielman - Arizona Hawks, Frank Bradley - Chicago United, Darrell Butler, Daniel Sarbacker - St. Louis Blues, Chris Candelaria, Charley Ellis, Mike LaValley- Denver Bulldogs, Marty Curry, Corey Irwin, Adonias Lucero, Deron Lein, KB Nelson, Jeff Purcell, Brian Nickel - Orange County Bombers, Dustin Jones - Florida Redbacks, Andrew Lamont - Golden Gate Roos, Doug Lewis, Walt Lin - New York Magpies, Dee Vsteska - Nashville Kangaroos

Coach Tom Ellis
Aussie All-Comers Team
Andrew Schneider - Chicago United, Paul Pietsch, Brad Wetherall, Chris McNeil, Steven Turner - Orange County Bombers, Brett Lewis Jarrad Crichton, Anthony Randell - New York Magpies, Michael Murphy, Adam Forsyth - Golden Gate Roos, Mark Bartlett -Seattle Grizzlies, Brendon Feddema, Sasha Sibree, Peter Treyvaud - Denver Bulldogs, Troy Redman, Patrick Muller - Baton Rouge Tigers, Bjorn Farrugia - Atlanta Kookaburras, Chris Richmond, Cameron OBrien, Brendan McDonald, Andy Scott, Todd Conway - San Diego Lions, Simon Morwood, Jamie White - Salt Lake Seagulls, Dwayne Marshall - Baltimore/Washington Eagles, Grant Campbell - Dallas Magpies, Janni Mirosevich - LA Crows, Stuart Grills Peter Campion - Canada (Vancouver), Mark Wheeler - Kansas City Power, Mark McPartland - (?)

Coach: Colin Langley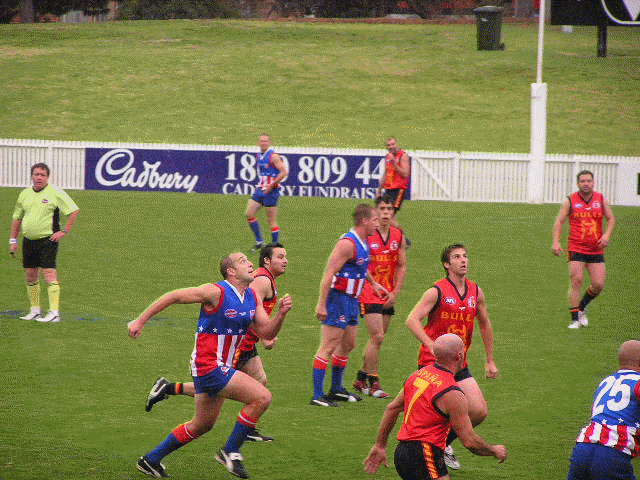 Action from the US versus Spain match at the 2005 International Cup in Melbourne.