US Footy Kids program gains momentum
Sunday, January 29 2006 @ 05:03 am ACDT
Contributed by: Brett Northey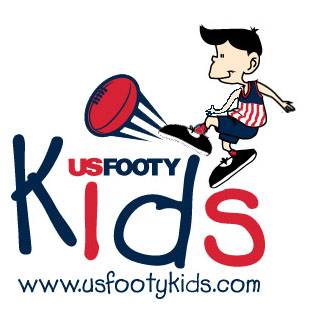 Australian Football has clearly put down roots in the United States over the past few years. It was only in 1996 that the first match was played by US teams, with the first Nationals the following year, in Cincinatti. In a few countries growth has been slow but fairly steady and the US is no exception, except its shear size of population means any small growth adds up to big numbers quickly. Where America appears to have fallen off the pace a little is in junior development, with leading countries like Papua New Guinea and New Zealand working hard on spreading the game amongst children. The US has been held back by a variety of reasons, such as no single city reaching "critical mass" in adult players. But also being relatively new to the sport, there has yet to be many former players now parents looking to get their kids into the game, as has been seen for example in Denmark.
However the USAFL's Denis Ryan has been working hard with the US Footy Kids program (similar to Auskick) and has started to see tangible results in the past year, so what better time for WFN to catch up with him and see how the future may unfold. Having recently sold nearly 1000 footies in Texas, things must be looking good.



Denis started with US Footy Kids in March 2003. He summarises the program:
It took a while and some trial and error to get there (which is a story in itself) but the plan is to get a modified version of footy into the PE curriculum to firstly create awareness and to then start up Auskick like courses of a weekend. We get to the PE teachers by presenting at National and state conferences of the American Alliance of Health, Physical Education, Recreation and Dance (AAHPERD).
It's generally understood that funding for some AFL affiliated countries requires them to spend a lot of it on junior development. Is that a requirement for the US, or is a different model being used there?
Originally this was true for us, but it was never enough money to pay me full time. It kind of got whittled down to where I was paid for the time I attended conferences and the costs involved. The funding for that was pulled last April and I now fund everything myself.
What would you say the biggest successes have been so far?
The Mesquite district in Dallas, Texas. After the Texas conference at the end of '04 they booked me into running an in-service day for their teachers in August. I had to agree to doing it for free (meaning I payed the costs and then hoped I sold enough footies to pay for the trip). Later, the Mesquite supervisor put in an order for 22 footies for each school in the district (a total of 946 footies) so I more than covered my costs and was able to pay for stock and future conferences.
Since then, the feedback from teachers in the district has been awesome. They attest to it being the best team game they've ever played and that when it comes to the end of the unit and time to start something else, the kids don't want to. They want to keep on playing footy.
Denis also held an in-service session in Wichita Falls, about 2 to 3 hours drive northwest of Dallas. This included taking around 50 elementary teachers through a modified version of the game on a soccer field. Adding to the successful trip to Dallas was the help of some players from the Dallas Magpies from the MAAFL. This is seen as a useful part of the program, but not the key to getting the kids involved.
The local USFooty teams should be involved, but as most of them are preoccupied with mere survival, I wanted to set it up where the drive for teams and USFootyKids courses (Auskick) came from the kids, their parents and teachers.
I'm targeting most of my marketing to the districts surrounding Mesquite and I'm hoping to turn last year's two (in-service sessions) into 6 – 10 this August. The supervisors usually start planning for their in-service days by February.
Also, the USAFL payed me a week's wage to visit local schools in the Waukesha District of Milwaukee in the week leading up to this year's Nationals. The kids just went crazy over it, with kids cutting classes to come back and play again. Every school I visited purchased footies and implemented the program.
What are the biggest obstacles?
Misconceptions in the US and lack of faith/vision in Australia. The US think we're rugby and/or too rough and that we're just out to kill each other. The only way I can change this attitude is to show them, which is a given if I get the chance.
The people that should be helping out in Australia (and I'm not really talking about the AFL here) either want instant results or simply don't believe in the game. With regard to funding, the real irony is that once I get some success and start to make some money out of it (which will happen, it will just take longer than it could have) I'll have sponsorship and grant money coming at me from everywhere. Thats not when I'll need it.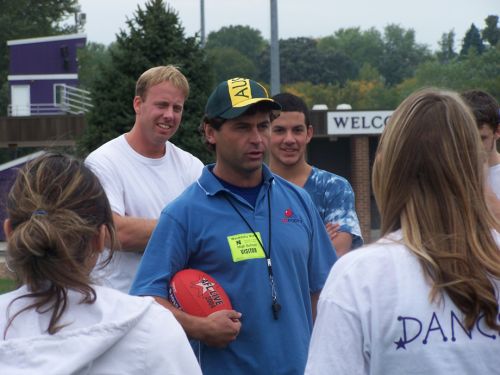 Realistically, where do you see junior development in the US two years from now? How about 5 years?
2 years: More and more PE teachers and schools will adopt the program on the influence and advice of their peers. We're in about 150 schools now and I expect this to double every year. The first weekend courses, organized by teachers, will begin and this is where we'll make contact with parents. In middle and high school, inter-school competition will begin.
5 years: Weekend courses will start hitting a critical mass where people will really start to see the benefits to the kids and community. Middle and High school teams will continue to start up with competition between original schools achieving higher notoriety and significance. Other sports will start to notice us.
Thanks Denis and good luck with it all. I certainly now have a lot better idea of where the US Footy Kids program is headed and feel confident that the wheels are in motion for a successful future. And thinking of those thousand or so footies sold in Texas - get your money on the Dallas Magpies for the 2012 USAFL Division One championship!
Later, we'll look at possibly the first high school in the US to start a team, across in the San Fransisco area.
Check out the US Footy Kids program here on the USAFL website.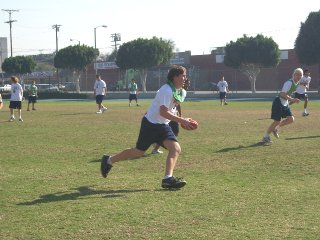 Since this interview Denis has also had some great results with clinics in LA during the Australia Week festival. Read more about it on the US Footy Kids website above. The program visited "Campbell Hall, Brentwood School and Loyola High School taking over the PE classes for the day and teaching the students Australian Football. Joining us at some of the clinics were none other than premiership coach Paul Roos and Jared Crouch, Craig Holden, Glenn Tanner and Stephen Brassel from the Sydney Swans". As was the case in Texas, the teachers and kids reportedly loved the game. "All schools visited immediately decided to implement footy into their PE curriculums". A lot of people were involved in getting these clinics on, but special mention goes to David Payne, better known for his work founding the Mojave Greens, the first military-based side in the US.
---
World Footy News
http://www.worldfootynews.com/article.php/20051229083351628