Review of 2005 - international Australian Football on the rise
Saturday, December 31 2005 @ 12:10 am ACDT
Contributed by: Brett Northey
Views: 3,506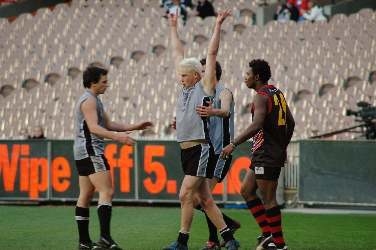 With another year gone WFN looks back at some of the big events and interesting stories for 2005. By no means an exhaustive list, we nevertheless review where the international game went and ponder emerging trends. Obviously the key story of the year was the build up towards and then playing of the second International Cup. It was also a year when funding to South Africa was significantly increased, several new countries put their toe in the water of footy, and hopes for others faded. International interest from AFL clubs was unprecedented and there were many new signs of promise. As always there were a few setbacks but overall the game appeared to march forward with increasing speed. With so much happening in 2005 a succinct summary has proved impossible, but if you're feeling fresh then read on for WFN's end of year wrap.


World Footy Census

WFN started our year with the release of our World Footy Census for 2004. As far as we know this was the first widely available documentation of approximate Australian Football playing numbers for the world. It showed 26183 players across 33 countries, excluding Australia, and hopefully will be used to chart growth levels in the years to come. In stating those numbers, we do concede that in PNG and New Zealand a lot of those numbers are in junior participation where a small number of games were played, so by the AFL's strict criteria (more stringent that some other sports), the total would drop dramatically to more like 7000, but either way there is no doubt those two countries are exposing thousands of kids to the game. Although we don't have a baseline to judge the increases, it would seem growth there is very healthy and they lead the way.
North America

In the US the NEAFL and SEAFL footy leagues merged to form the Eastern AFL, a step which should help consolidate growth there. Several new clubs emerged including Bakersfield, Las Vegas and stirrings in Minnesota. Chicago's two clubs merged to form what should be a powerful franchise in the years ahead. Relatively new club Florida began to show its potential with a strong EAFL showing and fast growth of playing numbers and metro sides in cities around the state. There was also an increasing trend of North American sides playing reduced-number demonstration games at major events such as large soccer and Arena Football matches. The western US clubs continued a somewhat fractured schedule and getting that settled will be important for 2006. Nevertheless Denver stamped their authority as the dominant side in US Footy's short history. There were also some early promising signs in junior development (more on this later) and efforts to push the game into colleges.
Expectations grew in the US as the television deal with ASTN seemed increasingly likely to bear fruit, with the April East-West Allstars game in Texas recorded in high definition. However as the year passed and no telecast was forthcoming the US football community became increasingly frustrated. ASTN continues to say that they intend to broadcast games in future, so our best wishes go to the USAFL for what could still be a great breakthrough for the game in that country.
In Canada the Vancouver Cougars continued to grow with plans to split into two sides and their junior league expanded further, while the large Ontario league worked on consolidating its numbers, as did the Alberta clubs.
Oceania

On the Pacific islands of Tonga progress was steady with junior development continuing and a young player sent to Victoria on a scholarship. Their year's highlight was a schoolboys tour to Samoa where they lost in a competitive match against the juniors being developed there through a schools program. In New Zealand most of the indicators have been very healthy, with increasing school participation and the Waikato league getting started, and of course the national team the Falcons having a great year. Alas not all was positive for the region, with the early developments in Fiji being shelved and the organiser of footy in the Solomon Islands apparently giving it away (not confirmed).
Asia

In Asia Japan maintained its lead as the dominant footy country in terms of developing local players. The new Uni league expands the number of teams and there is plenty happening in Osaka too. The Samurais side won the Narita Cup and came third in the Asian Championships, held in the Philippines for the first time. Expat-based Singapore were too strong for Bali in the final. Alas for the Geckos their Bali-9s tournament later in the year would be cancelled after another terrorist bombing there. Elsewhere in Indonesia the promising junior league set up in Pancawati looks promising, with talk of spreading to Universities and senior competition.
Europe


In Europe the Central European Championships were re-born as a 9-a-side EU Cup, with many of the fledgling Australian Football nations attending, with Belgium coming out on top. A more formalised and publicised junior development program began in England, and as a curtain raiser to the AFL match played in London, Ireland defeated Britain in what will hopefully become an annual event. In September the Paris Cockerels played the Strasbourg Kangaroos in the first "formal" match of footy between two French teams. Later in the year the new side from Senlis debuted against Strasbourg, with positive signs that France has now established one or more stable footy clubs. In Sweden the Stockholm league continued to establish itself, as did the new team in Göteborg, and down south the Skåne teams looked well set. The Danes remain leaders in junior development in Europe, although the DAFL executive appear frustrated at the lack of support at senior level around the country.
Elsewhere

There have been an unprecedented number of success stories in 2005. Somewhere high on the list must be South Africa. With significant and growing grass-roots involvement, several funding sources including a major increase from the AFL, a high-profile advocate in Brian Dixon and their first wins in international competition, everything has been on the up. See South Africa on track to join the big two to follow just some of the great news coming from Africa.
Less is known about progress in South America, where the main program is in Argentina, where an alternative sports organisation has championed the game for several years. One of WFN's writers recently visited the region so we hope to have more information later. Chile also had some tentative developments but that has been quiet in 2005.
In a possible first for inter-continental footy, British side the Reading Roos travelled to Atlanta to play US side the Kookaburras. The clubs later announced plans to stage an annual international club tournament in Bermuda from 2007.
The game in Australia

Amongst Australians the sport has continued to achieve very high TV ratings and attendance figures for the AFL in 2005. There is plenty of evidence that junior numbers continue to grow through Auskick, and the non-contact Recreational Football is doing very well in its second year. There remain issues with grass-roots football, with many rural areas finding things difficult and pressure from other sports. Hopes are high that the Sydney Swans premiership will accelerate growth in New South Wales, the one state that has lagged behind others in embracing the Aussie game, though a resurgent Rugby League, Australia qualifying for the soccer World Cup and the upcoming Commonwealth Games in Melbourne may all dampen the local attention Sydney get in 2006.
Second International Cup

All year there was a steady build up towards the second International Cup. Excitingly there was a new country attending with Spain adding colour to the tournament, even releasing a video clip. Unfortunately as the event drew closer it became obvious that financial and organisational issues would prevent 2002 attendees Denmark and Nauru from sending teams. The major headache was Nauru's late withdrawal, requiring last minute shuffling of the draw after it had already been widely distributed in the media.
Regardless the opening day arrived and there was a relatively high level of media interest, with numerous stories in the Melbourne press. The standard of play varied across the 10 teams, but it was clear to those that witnessed 2002 that the quality was greatly increased. Several nations fielded very professionally organised and well-drilled sides and impressed talent scouts such as Kevin Sheehan who although not likely to recommend players be drafted soon, could clearly see that Australian Football was on the right track to produce AFL potential in the not too distant future. The tournament also went to the country with a day of matches held in rural Wangaratta with thousands of locals turning out to watch the games in what was a very successful venture.
In the end New Zealand proved too strong, winning the Grand Final over Papua New Guinea at the MCG in a high standard match to remain undefeated for the series. Dropping off the top pace were Ireland and big improvers included the US and South Africa. Spain struggled but were welcome additions and Japanese coach Troy Beard was quick to point out that the Spaniards were probably better than his own team were at the inaugural Cup. It was also pleasing to see FOXFooty telecast the IC Grand Final across Australia on pay TV, although not until later in the year.
International footy assistance from Australia


Increasingly international players have begun filtering into various levels of the Australian system, with Papuans normally going to Queensland, Kiwis to Canberra and Americans to Victoria (although there have been exceptions). A young South African also undertook a scholarship in country South Australia and there are several other examples of players heading Down Under to improve themselves.
The article AFL Annual Report 2004 recognises international footy indicated that at the higher levels of the AFL there is beginning to be an awareness of international football's potential, and AFL consider allowing international apprenticeships could be a very significant step forward, making it much easier for a young player from outside of Australia to get the elite training that the best young Aussies receive. Although not yet confirmed, this program would be a logical step following the implementation of the international rookie list, which so far has seen four Irishmen of Gaelic football / hurling backgrounds listed by Brisbane and Carlton, with a possibility it will be used again soon.
A Multicultural Cup was staged in Melbourne in an attempt to involve migrants to Australia in the game and build ties with people trying to seed the game in their ethnic homelands. Turkey, Italy and Greece (the winners) were newcomers and hopefully those connections will be converted into teams starting in their ancestral homes in the next few years. An apparently separate group in Italy appears the most promising, with tentative connections made to the Melbourne players.
Perhaps a major turning point for the game was detailed in West Australians to play match in Mumbai, India and Western Australia to target development for Indian Ocean region? It remains to be seen whether the WA Football Commission will follow through on their ideas, but if they do world footy could find a major new ally that could fast track development in India and Asia.
Similarly we reported in Melbourne developing Five-Year Plan for Footy in China and Melbourne link to China development that the Melbourne Football Club could prove to be a driving force in bringing the world's most populous country into the Aussie Rules community. Although details are scarce, Brisbane has alluded to closer ties with Ireland (see Brisbane Lions sign Irish duo and look to forge closer ties). On the topic of Ireland, it was good to see the Under 23 Australian Amateurs tour of Ireland. They played International Rules matches but if future trips occur hopefully an Aussie Rules match will be included.
Although not played until early 2006, the Kangaroos and Sydney clash in Los Angeles confirmed story was another strong sign for world footy. Several times similar matches fell through, but now it is all go and will include the US side playing a curtain-raiser and coaching clinics being run. With the Kangaroos and Sydney pushing the game and Kevin Sheedy continuing to put the case forward, most recently with the two Japanese players doing full training with Essendon, the number of voices for the game are multiplying. Finally as reported in Barassi International Youth Tournament preparing for 2006, there are friends of football getting behind this event and it seems likely that there will be quite a number of junior sides from around the world, with hopes of teams from New Zealand, the UK and the US to name a few.
Future developments


So where would we like, realistically, to see international footy go, in 2006. In the past year its profile has increased dramatically in Australia, and a much larger percentage of the public are aware that the game is spreading overseas. Continued coverage such as the future FOXFooty documentary recently filmed in South Africa, following on from the March 2005 airing of their 2004 US Nationals doco, will certainly aid this cause. Early in the year the AFL website was re-designed and as a result the Development / International Leagues section became slightly more accessible. We'd still like to see that area given more prominence, as it was during the International Cup. WFN reached an agreement with the AFL to supply stories to that section whilst remaining independent. Hopefully we are doing justice to the international footy leagues and hope mainstream Australian readers will increasingly find their way there. Other areas of media seem ripe for "human interest" stories, and any of the major international leagues without representatives in Australia to push their image might want to consider such a position.
With the future TV rights deal currently being settled, and a large increase now guaranteed for the AFL, it would be tremendous to see an increase in the international footy budget from the current approximately AU$500,000 per year. However with several AFL clubs in Melbourne still struggling financially, a strong bid from the AFL Players Association likely and a continued focus on NSW and Queensland, any increases are probably going to be modest. If anything extra was forthcoming it would almost certainly be heavily targeted at programs that show strong structures around junior development.
Hopefully in the next year or so we will see more international rookie listings, the apprentice scheme used and maybe even the first full international AFL draftee or senior listing by a player first learning the game outside of Australia. We should also see even more players heading to Oz on scholarships or of their own accord. The key will be them returning with skills and enthusiasm to put something back into the game where they came from, especially in administration.
A tantalising near-term issue is the next International Cup. The AFL's Ed Biggs has suggested a possible big increase in the number of countries that might attend (see 20 nations for 2008?). It is difficult to see this happening, but it is good to see the AFL thinking about growth and Game Development Manager David Matthews has advocated elsewhere for supporting international footy. We'll certainly try to follow up with him as to how the number of participating countries may be increased.
Problems along the way

In what has been a stellar year there were still inevitably be some downsides. Denmark and Nauru not making the International Cup was disappointing, especially Nauru's late notice making the widely distributed draw incorrect. There was also ongoing tension in Britain where footy politics are vigorously in play. As mentioned Fiji and probably the Solomon Islands have for the time being halted their forays into Australian Football, and late in the year there was the decision by the Hawthorn FC to cancel New Zealand training camps at the last minute due to the AFL not funding them. The Hawks were reported to be asking for a 5-figure sum despite already being in Christchurch for a team building camp for their own benefit, so the AFL's refusal was seen by many as quite reasonable. However, the reported comments by AFL spokesman Patrick Keane that "the development of the game overseas is not really a priority at this stage" were unfortunate. Although they reflect the understood and reasonable reality that the AFL itself will focus on developing the game within its own country, such comments can be used to emphasise a view that they are not interested in the international scene, which overlooks a lot of good work they do support, as documented in many places including this article. It perhaps again shows that the AFL is a very large organisation with varying agendas and interest groups and to say that it does or does not support a given cause is an incorrect simplification. Part of the role of international leagues is to work with those who support them and aim to positively influence those who are yet to see the game's international potential. And of course AFL support is just one facet of international development.
Thanks

Finally a thanks to everyone who has supported WFN throughout the year, and to all our contributors. We're a non-profit organisation dedicated to raising the profile of international footy and supporting the leagues on their quest to both survive and grow. Thanks to all those clubs and leagues that have linked to us (if you assume your club has, you might want to check and make the suggestion if they haven't) and we hope to continue on the exciting journey of Australian Football with you.
At WFN we enthusiastically report on the progress of world footy, and in our own way try to make contributions through maintaining interest, cross-pollinating ideas, raising awareness in Australia (including providing stories and leads to various mainstream media and other football websites, such as the AFL, VFL and various clubs, as well as several print media publications). We very much appreciate the assistance of all our contributors, sources and supporters. We also note that it is important to provide a balanced view, as there is always the risk of people expecting too much too quickly from international footy. A sobering example for all is seen in New Zealand given a football lesson by touring Maffra Eagles. New Zealand went on to win the International Cup undefeated. It should be noted however that the Kiwis were "out of season" and Maffra has been a dominant club for several years. Nevertheless, it indicates that the game has a long way to go, but there is no doubt it is heading in the right direction. Yet another advance on this path has been NZ being admitted to the Australian Country Championships, where they will effectively be representing international footy in the eyes of Aussies looking on (see NZ to compete at Australian Country Championships). There is much to look forward to in 2006 and if it is anything like 2005, international footy will make some significant strides forward.
One sentence to summarise 2005? A breakthrough for international footy with unprecedented AFL and AFL club interest, consolidation in many regions and a successful second International Cup with New Zealand worthy winners.