US Footy Off season '05/06 – around the grounds
Sunday, December 25 2005 @ 11:33 pm ACDT
Contributed by: Troy Thompson
Views: 2,361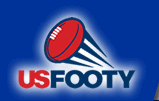 While the US Footy season pretty much finishes with the Nationals in early October, some footy continues on through the US winter. While in many parts of the US it is virtually impossible to play footy with fields covered in Ice and Snow, some southern regions find the winter months cool for footy.
Since the end of October we have seen Bakersfield in their inaugural matches with Mojave and Orange County in attendance. And Orange County taking on the Gaelic Club LA Wild Geese in the Turkey Bowl.
The Baltimore Washington Eagles Metro Competition concluded with Northern Virginia winning the Grand Final on Nov 12th by six points, coming from ten points down at three quarter time to defeat the D.C side. The North Carolina Metrofooty League Grand Final was played in late October with the final result being the Wolves 25.13 (163) annihilating the Capitals 5.7 (37) to take home the McElvaney Cup.
The Atlanta Kookaburras are running a series of open invitational pick up games as part of their off season recruitment strategies. On Dec 3rd they played the first of these games. A number of newcomers played their first game of footy in cold rainy conditions. The next two matches will be played on January 7th and February 11th 2006, email Recruitment Manager recruitment (at) atlantafooty.com for more info.
The Las Vegas Gamblers hosted their first match this past weekend (Dec 10th) combining with Tuscon Javelinas to play against the Mojave Greens team. The Gamblers/Tuscon Combine winning comfortably 21.15 (141) to the Greens 9.4 (58). Eight players made their debuts in the two sides as the Gamblers continue to build a solid squad for 2006.
Of course most people interested in Footy in the US are counting the sleeps to January 12-15th when the festivities surrounding the Kangaroos vs Sydney game in LA take place. Updated details can be found here on the USFooty site.
The Tampa Devils, Sarasota Sharks and Ft Lauderdale Mighty Fighting Squids will play in the first round-robin Tournament to be played in Florida for the Australia Day Florida Cup on January 26, 2006.
After a one year hiatus, the AZAFL Metro Footy Tourney is back on from February 24-26th 2006. They anticipate 8-12 teams this year. Please send an email to Info (at) arizonahawks.com and let them know if you're interested and how many will be coming from your team.
Editor (Brett): There was talk two years ago that footy in the US might have stagnated - whether or not that was true is debatable, but certainly there is a new flurry of activity, with the bonus being that most of the older clubs remain solid.