Lions defeat the Lions and the Lions for the Inaugral Prague Cup
Thursday, November 10 2005 @ 12:14 am ACDT
Contributed by: Aaron Richard
Views: 2,567

The first-ever Prague Cup was held last Saturday, November 5th, with two new sides in the Finland and Czech Lions taking to the field against the German Lions of Düsseldorf. In a three-game tournament, the Germans came out on top, defeating the Czech Lions 48-15 then combining with the Finns for a social third match against the Czechs.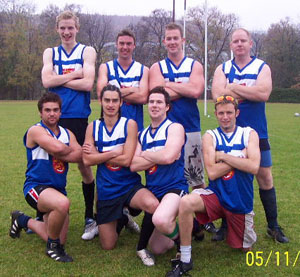 In a tight first game for both sides, the Finnish Lions triumphed over the chilly conditions with a tough four-point win over the Czech Lions. In the second match, the Czechs ran out of legs, being eventually well-beaten by the German visitors.
The weekend was a great success for the teams socially and organisers hope to be able to host the event again next year.

For the footy trivia-fans among us, the event was possibly the first-ever footy tournament where all teams wore jumpers essentially created a banner form of local coat of arms, the Finnish and Czech national symbols being Lions, as is the city arms of Düsseldorf. Any trivia-minded footy fans who can suggest when else this has happened drop us a line!
Full Results
Finnish Lions 6.5.41 d Czech Lions 5.7.37
German Lions 7.6.48 d Czech Lions 2.3.15
Finland/German Lions 4.5.29 d Czech Lions 3.2.20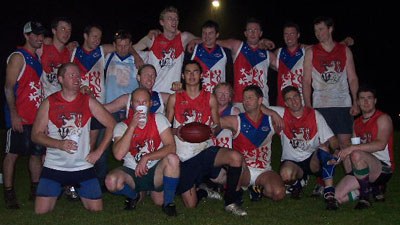 For more information on footy in the Czech Republic, visit the Czech Australian and New Zealand Association website.