Tonga continues to build solid foundations in 2005
Sunday, December 18 2005 @ 12:46 am ACDT
Contributed by: Brett Northey
Views: 4,094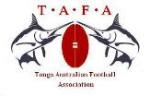 One of the more recent countries on the international footy stage is the Kingdom of Tonga, a Pacific nation whose nearest neighbours include Samoa and Fiji. Australian Mark Korsten was based there in 2004 and started the game going, and although he has moved on, Mark has continued to ensure a sound structure is built. His focus has been on junior development, with the assistance of an AusAID position (currently filled by Ed Cowan), and includes a scholarship at an Australian school. In a year when start-up plans in Fiji were shelved and the promising Solomons Island program appears to have gone a similar way, it's encouraging to know that Mark has a long term strategy to ensure the game in Tonga.
The Kingdom has had a few troubles this year, with a general strike making life difficult and no doubt frustrating some of the work. Nevertheless, almost all of the TAFA programs have grown in positive directions. Mark Korsten, now TAFA Spokesperson, is very clear about the goals for the Tonga Australian Football Association, and this has been consistent in meeting with him and via email communication. In addition to a long term program for a homegrown Tongan running onto the MCG, TAFA also focusses heavily on their vision for "Community Development through Sport". The TAFA goal is not to introduce Australian Football simply for the sake of it or to keep a bunch of boys entertained but rather to become involved in the community and assist it. "Introducing a new sport in any country, especially one with a strong Rugby culture, is exceptionally hard work. You can't do it without community support and the best way to get community support is to link activities to community objectives such as health, education and welfare from the start. We now have established programs for recycled sporting equipment, free mouthguards and academic scholarships. Our investment in community development is beginning to return dividends - key decision makers such as parents, principals, sponsors and aid agencies are all supportive of our activities. In time we are hoping that this support will form a stable platform from which we can develop our players to an elite level."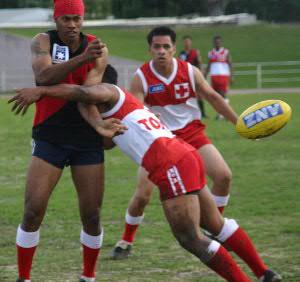 Although TAFA is keen to continue the successful experiment in which a schoolboys team toured arch-rival Samoa, "our High Schools, Primary Schools and Womens' programs are much more significant investments in the future".
Mark is confident that footy can have a successful future in the Pacific islands. He cites the hundreds of professional Rugby Union, League and American football players that have come from Tonga and is sure Aussie Rules will be able to produce top athletes too. "It is inconceiveable that one can't play in the AFL. Everywhere you look there are masses of kids looking for something to do. On a recent trip to an outer island 200 boys turned up to a development clinic. Unlike Western cultures, there are extremely few TVs, play-stations or computers to distract kids from healthy outdoor pursuits. Kids in Tonga are no different to kids in Australia - they will kick a bit of pumped up leather before school, during recess and after school right up until the sun sets. Attracting, retaining and developing a strong committee structure remains a much bigger challenge".
There are hopes of a formal relationship with Samoa to grow the game and build on their strong Polynesian rivalry. In the short term most development work will focus on 9-a-side footy, with all the advantages that come with the smaller scale - something being exploited in many countries new to Australian Football. But long term TAFA would like to build dedicated footy ovals, and the focus for a national team will be 18-a-side. "Obviously we would prefer to play 18-a-side, but people seem to forget that it takes about 50 people and a huge playing field to run a full scale game properly. From a development perspective we get heaps more value out of 9's. It really makes no difference when you are trying to learn the game".
For now, the main advantages of 9-a-side are seen as instant access to:

- Rugby and soccer playing fields in every village throughout the Kingdom;
- A network of rugby and soccer teams of the right size with existing rivalries and most of the equipment;
- Administrative structures that don't yet know the rules but have identified the potential of Australian football in developing their kicking, fitness and ball handling skills;
- significantly reduced equipment and transport costs.
The scholarship program remains TAFA's flagship. "We believe it demonstrates clearly our vision for "Community Development through Sport" and gains significant leverage off the generous contributions of Assumption College, Pacific Timber and Hardware (in Tonga), Puma, the Hawthorn Football Club and our fantastic host families. Our partnership with Hawthorn continues to develop steadily and we are extremely grateful for the support they have also been able to offer to our Boot Orphanage and Scholarship Program."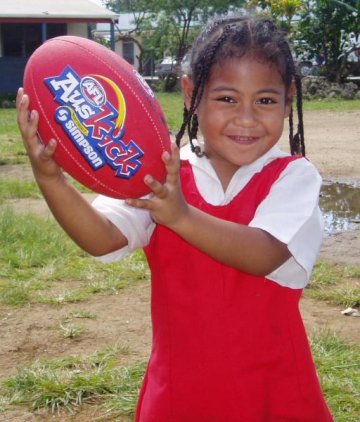 "And of course our development officers have been crucial in keeping the system going. The AusAID funded Youth Ambassador Program is absolutely fantastic and we are very appreciative of Australian Government Support in this respect. The two AYADS we have received to date have been outstanding individuals with exceptional levels of energy, talent and cultural awareness. Having an AYAD in place also allows us to easily integrate our activities with the Australian Sports Commission "Pacific Needs Assessment" which we also rely on for guidance".
All international footy fans are impatient to see new teams emerge at the International Cup, with the next scheduled for 2008. With a focus on developing at all levels and embedding positive sporting and administrative cultures, that still may be too far off into the distance for Tonga. As Mark notes, "It's on our to do list, but we can send a team to Samoa at a quarter of the cost of a single trip to Melbourne. Kids in Tonga just want to represent the Kingdom in red and white, so TAFA will get just as much value out of much cheaper options to Samoa or NZ. We would love to assemble a combined native and Australian team of boys for the Barassi Youth Tournament in 2006 or do a tour of NZ, but again finance and administrative limitations will probably hold us back".
However, it raises the question of when or if TAFA will join the 15 or so other major Australian Football countries that are aligned with the AFL, and whether the AFL have offered much support. So far TAFA have chosen to build their structure independently, something Mark has been very strong on in the first few years.
"Yeah, people want to see you get off your butt before they start handing out bags of money. That's fair enough I guess, and the positive aspect is that is has given us the opportunity to set up a structure to support objectives we believe in. The AFL have been up front in their position. In meeting with Ed Biggs in 2004 we were informed the development of the code in NSW and QLD remain high priorities, and limited support will be made available to the international development of the game beyond the 4 established international AFL programs. This is perfectly understandable - the AFL is a business and there is no immediate business value in the risky development of small countries starting up Australian Football Programs. We are hoping that the recent success of Brisbane, the Swans, the International Cup and small but fertile countries like Tonga will free up AFL support for international development. We'll probably revisit the issue of AFL support in early 2006."
Hopefully the AFL will see TAFA as having all the right fundamentals in place. Besides the administrative structures, the raw numbers are encouraging after just a couple of solid years. Mark says they now have 5 high schools involved with primary schools active too, giving around 150 junior players. The main emphasis is on the 12 - 14 year olds, but players across the system range from 5 to 35. All in all TAFA appear to have a very solid base from which to grow.
TAFA's website has not been widely advertised - check it out at www.tafa.to.