World Footy Atlas comes to World Footy News - Free Preview
Wednesday, October 26 2005 @ 02:56 am ACST
Contributed by: Aaron Richard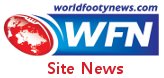 As part of the development of the FootyWiki - WFN is giving readers a sneak preview of the World Footy Atlas. The Atlas links into the FootyWiki, the World Footy Community's version of the Wikipedia, the online encyclopedia that anyone can edit.
Visit the Atlas here to check out how it's working so far. Currently the maps are mainly at continent level (except North America), but as our writers and programmers have time, the level of detail will be extended hopefully to national level in countries with larger numbers of clubs.
Once in the Wiki, if your club's (or anyone else's club's) information needs expansion or updating - read the User's Guide and add anything you think is relevant!