RSS feed back up and running - plus comments policy change
Tuesday, October 18 2005 @ 02:15 am ACST
Contributed by: Brett Northey
Views: 2,697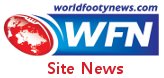 Just a quick note to say that our RSS feed is working again, having been out of action for a few weeks due to a problem when we changed servers. For those unfamiliar, RSS feeds allow news headlines to be sent straight to your email or RSS reader.
Our commenting policy has now been changed to disable the commenting option on new stories. Read on for more details. WFN's writing team has been in discussion as to policy regarding comments on the site.
After a lot of deliberation, when we started WFN we chose to leave the comments option open - and this policy has not been a problem until now. Over the last 12 months we've had plenty of great contributions via this channel.
However, we don't want to become a fight forum as sites such as BigFooty give everyone ample room to do this.
This is a decision that we personally regret, but despite our request to stop posting on a recent topic, and despite removing offensive comments, at least one individual continued to post so unfortunately everyone loses. Nobody wants to see mudslinging of the magnitude of the past few days again. If you have something to say, please submit a story or contact the author directly.
Thank you, Aaron Richard and Brett Northey