Falcons captain profiled in New Zealand press
Sunday, July 24 2005 @ 12:47 am ACST
Contributed by: Jake Anson
Views: 4,540

New Zealand Falcons captain Andrew Congalton has been receiving some press coverage at home, with a profile article appearing in the North Shore Times and on news website stuff.co.nz.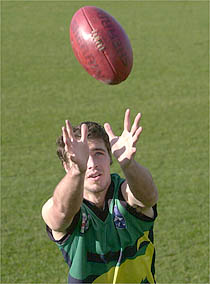 The article details Congalton's love of Australian football, along with that of his former teammate and current All Black Nic Evans. Congalton and Evans are both known in the North Shore region for their rugby and football talents, though their paths have diverged in recent years. Congalton has taken a break from his first-class rugby side this season to fully focus on preparations for the International Cup, whist the rigours of professional rugby have meant that Evans has little time for the Australian code.
The article outlines Congalton's desire for the Falcons to perform well at the International Cup, and touches upon his dream of being picked up on an AFL club's rookie list. The 24-year-old has been playing with Takapuna Eagles in the Auckland AFL for seven years, during which time he has trained with the Australian Under 18 team and toured with the New Zealand Under 21s. He has been offered a one-year contract with English rugby club Derby for 2006, but the team at worldfootynews.com have our fingers crossed that Congalton may be able to get a contract playing the Australian code closer to home.