Soggy 2004/05 Arizona season won by first time premiers
Saturday, July 02 2005 @ 11:43 pm ACST
Contributed by: Brett Northey
Views: 2,227

Despite the desert environs of Arizona on the US western side of the United States, the fifth Arizona AFL season has being punctuated by more than a few rain delays. After major re-scheduling, the minor premier, Arizona State University (ASU) Sun Devils, took on the Chandler Outlaws in the grand final. The following report is courtesy of the AZAFL's Darren Toohey, winner of the leading goalkicker award.
The 2004/05 season was a strange one. Even though Arizona is a desert, there were 4 rounds of football that were cancelled due to rain. This caused numerous make-up games which made the season drag on an extra two months, making everyone wish the 7 month metro season would come to an end!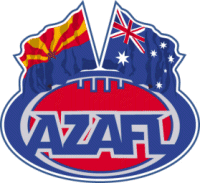 Coming in third were the Tombstone Marshals in their first year of existence, followed by the Phoenix Devils in fourth and the Scottsdale Dingos in fifth. Last year's grand final winners, the Tucson Javelinas, in a bizarre twist went from first to last as they folded half way through and had to forfeit all of their games for the second half of the season. Let's hope they can reorganize and get a team on the field in 2005/06.
Darren Toohey of the Tombstone Marshals won the goal scoring title by scoring 13 majors in the last two games to lead all comers, just beating out Levi Good of ASU by one goal and Rob Luto of Chandler by two goals. The league Best & Fairest will be announced shortly at the end of season awards night.
ASU only lost one game all year and that was to the Outlaws so the Grand Final was always going to be a good match. On the day ASU could only round up 9 players so with temperatures topping 100F it was going to be tough for them with no substitutes. Chandler had 16 players so early on it looked like they could be favourites. After the first quarter both teams were tied at 15 points a piece. A 5 goal second quarter by ASU saw them take the lead at half time 46-21. The stellar play of Aussie, Daniel Dodd was the difference. Whether he was Centre-Half Forward, Ruck or Full Back, Dodd dominated the game like he has done all season and proved why he is easily one of the best Aussies playing in the US.
Chandler, the youngest and most athletic team in the league seemed to be disorganized and having so many players actually hurt them rather than help them. Apart from Dodd, ASU had US Revo player Brad Pope as well as fellow all-star players Darren Kelley, Levi Good and Canadian National Team player Jason Parks. ASU outscored Chandler 3 goals to one in the third quarter to take a commanding 66-28 point lead.
Even though ASU shows signs of being tired in the last quarter they held on to win their first Grand Final 11.7 (73) to Chandlers 7.8 (50). Levi Good from ASU had 4 goals and Dodd had 3. Leading Chandler was Troy Anderson with 2 goals.
In a first in a AZAFL Grand Final the MVP of the match went to a defensive player, Josh "Touph" Ashley. His dominating defensive efforts lead a backline that helped stifle numerous Outlaw attacks. Ashley also earned MVP honors for his performances at the grand Final party later that night.
In 2005 one hundred different players took the field in the AZAFl, a new milestone for Arizona which will hopefully lead to bigger and better things in the next season.