New small logo for World Footy News
Wednesday, June 22 2005 @ 12:20 am ACST
Contributed by: Brett Northey
Views: 2,788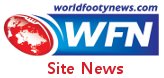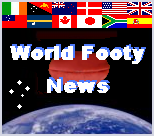 World Footy News exists to help promote international Australian Rules football, raising awareness of the game's growth. We hope to help show both Australians and the rest of the world the great potential for this sport. This job is made much easier with the support of as many leagues and clubs as possible. We hope by spreading news of the respective leagues, all the nations playing footy can benefit from new ideas and fresh challenges. We're also aware that mainstream media peruse our site, so this also raises awareness with people who can assist the cause.
In order to help spread the word, we have produced a new small logo which we ask people to display on their websites where possible, be it on the front page or in their links section. Or even just have the text "World Footy News" hyperlinked. If your club doesn't have a link to us, perhaps you could ask them on our behalf. Webmasters, feel free to grab the logo here, and re-size it if necessary.
The logo features the site name and a footy above the world, with the Southern Cross representing Australia, the ancestral home of the game. Across the top are the flags of the 11 teams, in finishing order, from the 2002 International Cup. Also included is Spain, the only new country attending the Cup in 2005. Of course there are also numerous other countries developing the game, and we look forward to them forcing us to reconsider our logo in the years ahead!