Convicts too strong for Gauteng Province
Sunday, February 06 2005 @ 02:14 am ACDT
Contributed by: Brett Northey
Views: 4,209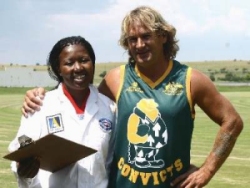 The touring Australian Convicts side has proven too strong for Gauteng Province in the first of a series of matches in Africa, running out 142 - 70 victors. The tour group arrived in Johannesburg on 29th January, and played Gauteng the following day in the University town of Potchefstroom. The game was held on a good quality field just outside of town. The Australian players were impressed to find it well grassed and fullsized. (Photos courtesy of Simon Arnott and Betty Lloyd - Simon is pictured making sure the umpires were on the Aussies' side).
The South African side consisted of Gauteng players and a few experienced "ring-ins" from North West Province. Several Afrikaans Rugby players were having their first crack at Aussie Rules - something considered vital by the South African coaching staff if they are to have enough tall players for the International Cup in August. Certainly the Aussie players felt the brunt of a few strong tackles and palm offs, but overall the tourists' skill level in delivering the ball was superior and saw them home for a comfortable victory.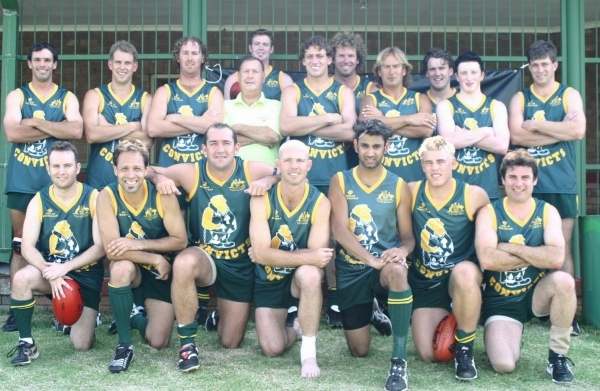 The Convicts squad before the match
The game was played in good spirits, and the Convicts took the opportunity to advise their opponents during the game on tactics. After the match, a few beers were shared amongst the players and the players from both sides clearly thought the day was a great experience.
Scores were:
| | |
| --- | --- |
| Gauteng | Convicts |
| 1.3 (9) | 6.3 (39) |
| 1.4 (10) | 13.8 (86) |
| 4.5 (29) | 16.11 (107) |
| 10.10 (70) | 21.16 (142) |
Best player for Gauteng, as selected on the day, was Duane Vermeulen (pictured below right with tour leader Brian Clarke), a young Afrikaans player who impressed from fullback. Best for the Aussies was Anthony Dhillon.

The Convicts players have also conducted several footy clinics for kids in South Africa, which have been very well received and enjoyed by the players. More reports and photos from the tour will follow.