Scene in Spain kicking on as the Bulls head for the International Cup
Saturday, February 05 2005 @ 11:05 pm ACDT
Contributed by: Aaron Richard
Views: 4,146

The only new nation to step up for the International Cup 2005, Spain is still a mystery to everyone but a few of the European sides such as Paris, Brussels and some of the German teams who have come up against them in the past year.
There are some promising signs from the nation, and as a Spanish national team largely organised by the Madrid Bears players prepares for the International Cup in Melbourne, a four-team league has resurfaced and is kicking on in the small Catalan town of Valls, 120km from Barcelona. In 1996, the Australian Embassy in Madrid received a phone call from Spanish television network 'Teledeportes'. They were looking for someone with knowledge of the game to provide commentary for their match of the week - and employed Australian Jeff Callow. Teledeporte ran the programme for one full season on Spanish TV. Due to its success, the following year saw interest from a private network (Canal +) and a contract was signed for two weekly matches and a highlights programme.
Although Canal+ is a subscriber network, over the next 6 years the programme began to generate enormous interest all over the country. However, with a lot of talk but no real attempt to start a club, the extent to which footy was played in Spain still only extended as far as a social kick in the park.
This all changed on grand final day 2002, when another Australian, Andrew Nielsen, walked into a party held by an Australian Expat social group, decked out head to toe in Brisbane Lions gear. Nielsen and Callow started to work together on the concept of founding a club in the Spanish capital, and from here the project gained momentum. The Madrid Bears, named for the traditional mascot of the province of Madrid and wearing the city's traditional red and white, were officially incorporated in March 2003.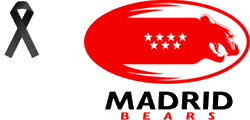 The numbers playing in Madrid have grown to about 30-40 regulars, playing 14-a-side matches on a soccer field in Alcorcón, just outside Madrid. The majority of their list is made up of Spaniards - and the majority of these are people who've come down for an experimental kick and learnt the game from scratch.
The Bears have only played a few matches against international opposition - they hosted (and won) a tournament against sides representing England and Germany in early 2003, were hammered by the touring Convicts later that year, but then came runners-up to an expat-heavy Belgian side in the Central Europe AFL championships for 2004.
In May 2003, the Madrid Bears played their only game to date against another Spanish side - a representative squad from Catalonia. The Bears won by over 100 points, but it according to the founder of Catalan Aussie Rules, Pedro Molinar, the match was great experience for his squad.
The Lliga de Futbol Australiá de Catalunya (Australian Football League of Catalonia) was founded in September 2002, when a social gathering for a kick of the footy in Valls grew to around 30 interested players and it was decided to formalise what had been a series of irregular sessions organised by a group of people including Molinar.
Molinar, who grew up fascinated by contact sports such as rugby and American football and became interested in the Aussie game while quite young. Eventually, his career in American football lead him to 8 seasons with the Barcelona Dragons, one of Europe's strongest American football clubs until retirement in 1995 set him looking for a new pastime. 'Some friends and I would go out and play a few games of Aussie Rules, but at that time we weren't planning on founding a club of any description'.
In 1998 he moved to Valls, near Tarragona, about 120km south-west of Barcelona. He kept up his informal footy sessions with friends in the area, and after four years they eventually they realised the group had grown large enough that starting a club was a realistic project.
As with many groups outside Australia, a combination of difficulties in finding a ground and finding numbers meant the Catalonians had to improvise, and started a four-team league playing six-a-side on a tiny ground. Currently they have 28 regular players and a number of occasionals who are spread between four squads, named the Belfrys, Coyotes, Wendells and Gabas. 'We don't have a single Australian playing for us' notes Molinas. 'Although Valls has lots of immigrants for a town of its size (22,000 population), there's not a single Australian. We're hoping to make contact with the Australian community in Tarragona and other large cities nearby. However, we do have players from Brazil, Morocco, Great Britain, Uzbekistan, Ecuador, Algeria, Romania... in fact, of the 28 regulars, 17 of them are migrants. It makes learning foreign languages an important part of playing sport!'
This contrasts with the Madrid squad who have a strong base of experienced Australians to train and refine the locals' skills. Molinas recalls, 'When we travelled the 600 km to Madrid in May 2003, the Bears had a strong squad with a number of very good Aussies, they were very organised, and their president, Jeff Callow, knows a lot about the game. To give you an idea of the difference between the Bears and Belfrys, there was a difference of about 100 points, but we learnt huge amounts and it was a fantastic experience.'
It is still being discussed whether any players from the Catalan competition will bolster the Spain Bulls who will tour to Melbourne. The Spanish players from Madrid almost all have less than 10 international matches experience, and haven't played against opposition of the calibre they'll see in Melbourne. That said, the Catalan players have had even less exposure to international competition. Either way, for the side to be a true national representative squad there will need to be some combined effort between the two camps - which ultimately would benefit the game in Spain as a whole.
As for the future, the next step is the creation of a national league, the Spain AFL. Both the Madrid and Catalonia camps are very optimistic. Molinas predicts that they could have a boom period in the next two or three years, which could see a number of sides set up which would then be allowed to stabilise. 'There are a lot of interested people around Spain who just need to take the next step in their city. We could hopefully have a genuine national league in 2006, with teams from Madrid, Catalonia, Bilbao, Valencia, Sevilla, Zaragoza...' The Bears are also hopeful of building up contacts with people in Cordoba and Galicia.
In the meantime however, the Bears and Belfrys are planning to play against each other in the upcoming months and there was some talk about the North London Lions coming to Madrid in April. Madrid and Barcelona have a huge rivalry in all sports (and life in general) which should make for some passionate encounters.
Then the Bulls have their chance to show the world where they're at in their progress. They'll probably face a steep learning curve, but they're sure to be a passionate force on the field.