Australian Convicts to play South African Buffaloes
Wednesday, January 26 2005 @ 12:09 am ACDT
Contributed by: Brett Northey
Views: 3,259

The touring side, comprising amateur footballers from around Australia, will be playing three matches in South Africa in February. It has been announced that the final match will see "the Convicts" clash with the South African national side in what will hopefully be a great promotional match in Soweto, Johannesburg.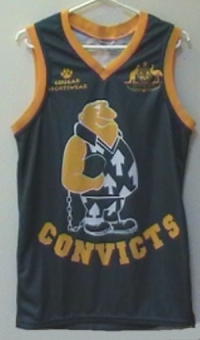 It has also been confirmed that instead of simply playing individual local clubs, the first two matches will be against the provincial sides Gauteng and North West, the two strongest Australian Rules Football regions of the country. With the locals well-adjusted to the heat (possibly high 30s Celsius), humidity and altitude (Jo'burg is around 5300 feet / 1750m), the tourists may face a tough battle. Hopefully the games will provide a great opportunity for the South African players to earn a spot in the squad for the 2005 International Cup in Melbourne in August. The Buffaloes should benefit from their first "international" in 3 years (the last Cup).
The tour has been organised by a version of the IAFC. The IAFC, in its various forms (the original dissolving in 2002, so the current one using the name is only loosely associated with it) has a long association with South African footy, though the country's first modern contact with Australian Football came at the Arafura Games in Darwin in 1997, when officials were impressed by the sport. Also attending the Games was an Australian Defence Force side, lead by Marty Alsford. He became heavily involved in organising the Australian Defence Force team that toured South Africa in 1997, training officials and running development clinics - the first concrete seeding of the game. In 1999 Alsford became President of the IAFC (the original entity), and helped arrange for Aboriginal Australian Mark Motlop to run coaching clinics in North West Province. Alsford's son, Dale, was the first Australian Football Development Officer in South Africa. Brian Dixon, a continuing driving force for Footy South Africa, is also a former Vice-President of the IAFC. Since 1999 the sport has continued to grow, and the Convicts tour will help measure the depth of that growth. Clinics are also scheduled for the many juniors taking up the game. The tour will be the first time any African Aussie Rules team has played an Australian team at adult level.
The touring party (which is paying its own way) will also be visiting tourist areas such as Sun City and the massive Kruger National Park. This author has taken the current popular trend of journalists being "embedded" one step further, and will be taking part in the tour as a player, so will hopefully have some reports from the field.
The match dates are:
2pm 30th January - Potchefstroom - Convicts versus Gauteng Province
2pm 3rd February - Mafikeng - Convicts versus North West Province
2pm 7th February - Soweto - Convicts versus South Africa