US scholarships for 2005
Tuesday, November 23 2004 @ 03:39 am ACDT
Contributed by: Brett Northey
Views: 1,984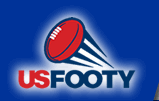 The USAFL works with Macquarie Univsersity (in New South Wales, Australia) and AFL club Essendon (in Melbourne) to provide two scholarships each year for promising players to travel to Australia and play at a higher level. The 2005 winners have been announced.
The USFooty site reports that James Brunmeier is the winner of the 2005 Macquarie University USAFL Scholarship. James is the brother of Jared Brunmeier, who won the 2004 Essendon scholarship. James is currently studying at the University of Wisconsin - Eau Claire, and plays with the Milwaukee Bombers and is a member of the Revolution, the US National side.
The 2005 Essendon scholarship winner is Christopher Carroll from the St. Louis Blues. The 24 year old can look forward to training with Essendon in the pre-season, before most likely playing out the year with a local club.
Hopefully both these men will return to the US as improved players, and with a commitment to further raising the standard of the game in America.