Toronto secondary schools embrace footy for girls
Thursday, November 11 2004 @ 11:37 pm ACDT
Contributed by: Brett Northey
Views: 4,315

In what could be a first for secondary schools in the Northern Hemisphere, two schools in Canada have fielded Australian Rules sides. The Etobicoke Kangaroos Australian Football Club (from the Ontario AFL) has conducted three weeks of training, finishing with an inter-schools match, between St Clement and Bishops Strachan. The following is from Greg Everett (Head Coach of the Canadian National men's side, the Northwind).
The day November 10th 2004 will go down in the history books as the day that 2 secondary schools from the Northern Hemisphere played each other in a game of Australian Football with school pride on the line for the first time ever.
The Etobicoke Kangaroos Australian Football Club based in Toronto as part of their Junior Development program had over the last 3 weeks been conducting Australian Football clinics at both the St Clements (SCS) and Bishops Strachan (BSS) girls school.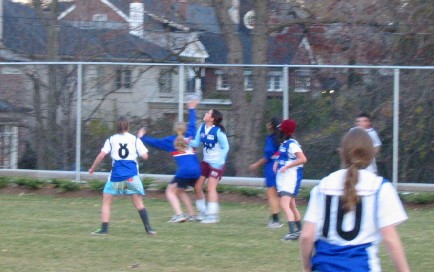 After working on their skills and game sense for many hours under the guidance of the Kangaroos junior development coaches, Greg Everett, Simon Wilson, Clayton Holmes and Rob Lennox the schools selected their top 15 players to get ready for the game which was played under fantastic fall skies of blue.
The BSS girls as ground host selected the jerseys of the Etobicoke Kangaroos while SCS wore the jerseys of the former Brampton Wolverines.
With Rob "Rocket" Lennox acting as umpire in his farewell game before he leaves for Australia the game got under way at a cracking pace with both teams trying to adjust to the pace from practices to playing and from no pressure to heaps of pressure.
Both teams settled down their nerves and found that the new fast paced game they had discovered was in fact a lot of fun and full of excitement.
With there skills starting to shine thru the ball went from end to end as each team tried to break down each others defence. Marks were being taken all around the ground and as the game went on the girls started to understand the concept of play on footy and moved the ball with ease with flowing handballs and silky smooth kicking game.
In the end it was SCS who won the game by 5 points - had it not been for the diminishing light a fast finishing BSS might have been able to pull out an upset.
Congratulations to all girls from both teams for their efforts at practice and during the game. It is hoped that this is the start of bigger and better things for the Etobicoke Kangaroos AFC junior development program.
Final Score
St Clements 3 goals 7 behinds Total 25 points Def Bishop Strachan 3 Goals 2 behinds Total 20 points
St Clements Goals: Liana Wong 2, Zahara Jamani 1
Bishop Strachan Goals: Robyn Short 2, Abbey Greenbloom 1
St Clements Best: Zahara Jamani, Becky Carueth, Liana Wong, Sarah Vinette.
Bishop Strachan best: Kasey McKenzie, Ali Dennis, Robyn Short, Abbey Greenbloom
Both teams will be trying to play each other again with Havergal Girls College also keen to play after having a week of clinics.
Special thanks to Linda Leckie of BSS and Kelly Pace and Beth Crocker of SCS for helping get this together and helping to make a vision of school football starting come true.