Cudas Win Classic Danish Grand Final
Tuesday, September 21 2004 @ 03:28 am ACST
Contributed by: Ian Hill

An indifferent Danish AFL season came to a pulsating climax yesterday with easily the most exciting Grand Final in the league's 14 year history.

The NC Cudas emerged victorious but despite leading for almost the entire match could never shake off the Farum Cats who several times reeled in deficits which looked fatal.

The closeness of the match is reflected in the rare instance of the loser kicking more goals, and a player from the losing side equaling the league Grand Final goalkicking record with eight majors - Mikkel Norlander of Farum, whose bag included five in the last quarter alone.

Stan Doney booted five for the victors and dual-Sitch Medallist Jesper Gjørup added to his trophy cabinet with the BOG medal. The final scores were NC Cudas 14.15(99) defeated Farum Cats 15.5(95).

More details of the match can be found at The Footy Record.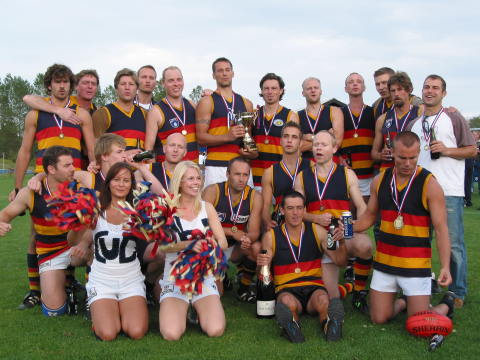 ---
World Footy News
http://www.worldfootynews.com/article.php/20040919035820643