St Louis Blues claim back-to-back MAAFL titles
Sunday, September 12 2004 @ 09:15 pm ACST
Contributed by: Brett Northey
Views: 2,372

The 2004 Mid-American AFL season came down to the wire with four of the seven clubs still in contention going into the last round (the premiership being decided on ladder positions with no finals series). Despite the Milwaukee Bombers having a good win over Dallas, St Louis retained their title by having a solid victory against Atlanta.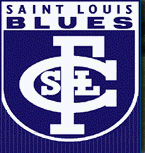 The Blues almost kicked themselves out of the title, scoring 9 goals 18 behinds against the Kookaburras' 8 goals 3 behinds. There was always a good chance the title would come down to percentage, so inaccurate kicking could have been a disaster for the Missouri side. By contrast Milwaukee kicked straight against Dallas and almost bridged the percentage gap, but fell just 6% short.
At the end of the seven round season (with each club having one bye), the final standings saw St Louis with 5 wins 1 loss edge out Milwaukee, followed by Atlanta, Dallas and Nashville on 3 wins, Chicago on 2 and Cincinnati struggling this year finishing winless. St Louis' back-to-back premierships equals Nashville's record of two MAAFL flags, with the Chicago Swans and Cincinnati the other previous winners.
All the MAAFL results and news can be found at the Midfooty website.