The History of the growth of footy - a Timeline
Thursday, December 30 2004 @ 04:49 am ACDT
Contributed by: Brett Northey
Views: 2,308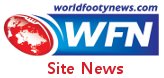 World Footy News has released a new page, detailing key moments in the growth of Australian Rules football.
Although very much subjective, the author has attempted to isolate significant points that have brought the game to where it is today. These include the first games played in colonial Victoria and the rapid spread to South Australia, Tasmania and Western Australia. The timeline charts the first interstate battles, renewed growth into other states of Australia, and the formation of the national league, the AFL. Key years are given for the beginnings of foundation clubs and leagues in countries around the world, the first intenational series in Darwin, and the International Cup. The page will continue to be updated as new milestones are achieved. Of course, some events may or may not appear significant until years later.
The Timeline can be accessed from the front page or by clicking here.