Vancouver Cougars are NWPAFL champions for 2004
Wednesday, September 15 2004 @ 08:00 am ACST
Contributed by: Brett Northey
Views: 3,615

The North West Pacific AFL Grand Final was played on Saturday, September 11th, with the Vancouver Cougars hanging on to defeat the Seattle Grizzlies by nine points, in a match that will be remembered as a desperate battle by two injury ravaged but proud clubs.
This year the league featured teams from Vancouver and Victoria (on Vancouver Island), in British Columbia, Canada, and the Seattle Grizzlies from Washington state, USA. The home and away series finished with Vancouver top, followed by Seattle and then Victoria, with just the one win. It should be noted though that the Victoria Lions were very competitive in their first season and should add a lot to the NWPAFL in years to come.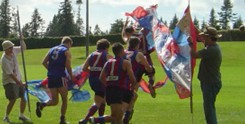 The Grand Final saw Vancouver hosting Seattle at UBC Thunderbird Stadium in Vancouver. Pictured at left are some of the Cougars bursting on to the field. In true grand final tradition the national anthems were sung - in this case that of Australia, Canada and the US. Through injury, the Grizzlies struggled to get enough numbers for the long trip, and the lack of interchange players told as Vancouver pulled away to lead by 22 points at quarter time. But fate would balance the ledger. A series of freak accidents saw the Cougars lose several key players, including one broken collar bone, one broken cheekbone, one broken wrist, one gashed head and a knee injury. The local UBC hospital was in for a busy day. Not surprisingly Seattle fought back to be just four points adrift at the main break.
The match was tight all the way thereafter. In a battle of the defences the Cougars held their narrow lead through the premiership quarter, and stretched it slightly in the last, as they sealed a narrow win. Finals scores were Vancouver 9.7 (61) defeated Seattle 8.4 (52). Best for the winners were "Farr-Train, Shep and Randy D", with Stratford and Farr both kicking 3 goals, while for the galant runners-up, Greg Morton was named best and Justyn Shevlin lead the scoring with 3 majors. Both sides knew they had been in a premiership decider and either side would have been worthy winners.
The premiership win was the Cougars' third in four years - with Seatle having a surprise win last year. Season 2004 also saw the NWPAFL sides play non-league matches against the Calgary Kangaroos and Red Deer Magpies, and a combination of those teams representing Alberta (the Canadian province in which they lie). Hopefully an Alberta league will emerge in 2005. With Vancouver also playing metro games and further south the Portland Power doing likewise, growth in this corner of North America continues at a steady rate.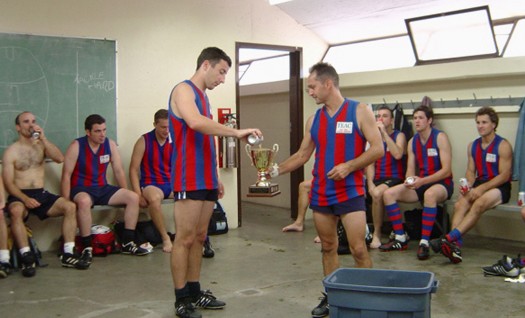 That special moment with your mates in the changerooms after winning the flag.