The Atlanta Kooaburras have cemented their club as legends of the South Eastern Australian Football League in the United States, winning an incredible four premierships in a row.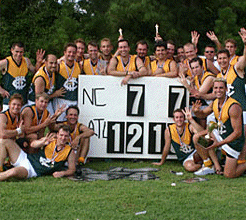 Their win again came at the expense of North Carolina,[*1] who once more put in a big effort to make the Grand Final. Losing one hurts but often inspires teams to return stronger the next year, but the Tigers' resolve in keeping themselves at a high level four years in a row shows a lot of determination and speaks well of their club.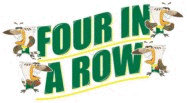 The Kookaburras won the toss, kicked with a strong wind and were never headed. The Tigers made a late comeback as the battle became heated, but Atlanta held strong winning 12.10 (82) to 7.7 (49).
After the game, Atlanta coach Brent Bacon said "The club has had a tough couple of weeks with two losses, but the guys bounced back today in the best possible way".
Almost immediately the Kooka's plans have turned to the rest of their biggest year in footy, as they also play in the Mid American AFL. "We have two key games against Dallas and St. Louis in the MAAFL coming up and are then hosting the US Nationals in Atlanta in October".
A full report can be found on US Footy[*2] or Atlanta's site.[*3]