International Cup 2002 in Review
Tuesday, November 16 2004 @ 12:49 am ACDT
Contributed by: Brett Northey
Views: 387,769

It has been two years since the inaugural International Cup, held in Melbourne. The event was a great success and plenty has been said and written about it, but there have been many new developments in the world of Australian Rules football, and hopefully a lot of new people have become interested in this emerging aspect of the game. So worldfootynews.com thought it would be worthwhile reviewing the 2002 event. Later, we will preview the 2005 tournament.
Many attempts have been made to spread Australian Rules football around the world over the past 150 years, but only ever with moderate success at best. Countries such as Papua New Guinea and Nauru are some of the better stories. Then the 1980s and 1990s saw the sport start to take serious hold in a handful of new countries, with the increasing number of expatriate Australians and the emergence of the Internet and cable TV leading to increased awareness and organised leagues forming. The Arafura Games, named for the sea off the Northern Territory (Australia) coast, were held every two years in Darwin, and in 1995 Australian Rules was included for the first time. Several countries competed, and the idea of bringing the nations of the world together for an international footy tournament started to take hold. The International Australian Football Council, in one of its incarnations, actively pushed for the first World Cup to be held. Leaving politics aside, what ultimately emerged was the 2002 International Cup, supported by the AFL and the IAFC (which subsequently dissolved itself in favour of the AFL International Development Committee, although several splinter IAFCs continued on). It featured 11 countries taking part at Amateur level in the biggest nation versus nation Australian football tournament yet. Australia was the notable absentee, due to them being deemed too strong - hence the series was not given the title World Cup.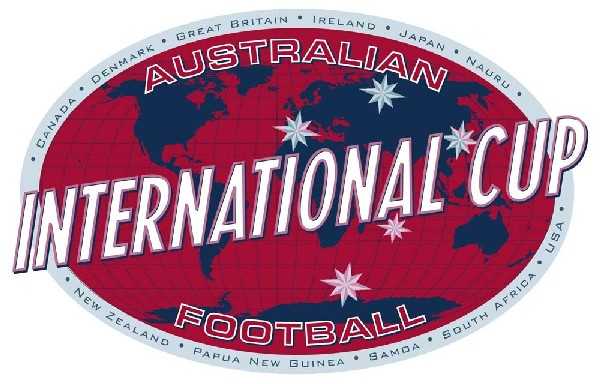 The sides were drawn into two divisions of 5 and 6 teams. Papua New Guinea were warm favourites, based on their long history in the sport, and strong Arafura Games form. After a huge organisational effort from all involved, the tournament commenced on the 14th August 2002, with an opening ceremony at Sandringham Oval.
All teams played a series of round-robin matches on various suburban grounds around Melbourne, including several AFL club grounds. Modest crowds were in attendance, with curious on-lookers no doubt wondering why they didn't know anyone else played Aussie Rules. Hopefully the tide is slowly turning on that score. The full set of results follow.
Pool A: Papua New Guinea, Great Britain, Nauru, Japan, Denmark
Pool B: Samoa, USA, New Zealand, South Africa, Ireland, Canada

Round 1
PNG 13.11 (89) d. Great Britain 2.2 (14)
Nauru 17.17 (119) d. Japan 1.8 (14)
USA 7.10 (52) d. Samoa 4.7 (31)
New Zealand 25.13 (163) d. South Africa 0.1 (1)
Ireland 7.14 (56) d. Canada 4.7 (31)

Round 2
PNG 9.15 (69) d. Denmark 3.5 (23)
Great Britain 9.11 (65) d. Nauru 8.11 (59)
Canada 4.11 (38) d. South Africa 1.5 (11)
Ireland 5.6 (36) d. Samoa 4.5 (29)
New Zealand 11.12 (78) d. USA 4.1 (25)

Round 3
Great Britain 7.3 (45) d. Japan 4.6 (30)
Denmark 5.10 (40) d. Nauru 3.9 (27)
Samoa 12.15 (87) d. South Africa 1.4 (10)
New Zealand 10.8 (68) d. Canada 2.6 (18)
Ireland 7.7 (49) d. USA 6.3 (39)

Round 4
Denmark 12.9 (81) d. Great Britain 4.2 (26)
PNG 23.9 (147) d. Japan 0.0 (0)
Ireland 15.8 (98) d. South Africa 3.3 (21)
USA 8.4 (52) d. Canada 1.1 (7)
New Zealand 10.10 (70) d. Samoa 5.8 (38)

Round 5
Denmark 10.6 (66) d. Japan 4.7 (32)
PNG 13.13 (91) d. Nauru 6.8 (44)
USA 20.12 (132) d. South Africa 0.4 (4)
Samoa 9.15 (69) d. Canada 0.5 (5)
Ireland 4.10 (34) d. New Zealand 3.2 (20)

At the end of the minor round games, PNG emerged as top of Pool A, and Ireland atop of Pool B. Both were undefeated and went through to the Grand Final. A series of classification matches were also played to determine the final standings of the lower place getters.
Classification matches

New Zealand 3.7 (25) d. Denmark 2.4 (16)
Samoa 5.7 (37) d. Nauru 2.8 (20)
Canada 6.5 (41) d. Japan 5.2 (32)
USA 13.15 (93) d. Great Britain 2.3 (15)

The Grand Final, to determine the inaugural International Cup champions, was held on August 23rd at the famous Melbourne Cricket Ground (MCG) as a curtain raiser to an AFL night match between Hawthorn and North Melbourne. Both countries were undefeated, with the surprise performers being Ireland. Although they have a rich history in Gaelic football, a very similar sport, their Australian Rules league was only a couple of years old. In a tough contest, the Green Machine, as they were dubbed by the Australian media, shut down the Papuans. There are numerous opinions on how the Irish came to defeat such a fancied opponent. Some have said PNG got stage fright, some that the Irish flooding tactic stifled their run, others that the strong soccer and Rugby backgrounds of the Irishman served them well. What is clear is that they put in a far superior effort to comfortably win the International Cup and make the rest of the football world take notice.
Grand Final
Ireland 7.9 (51) d. PNG 2.7 (19)

Final standings were:

1. Ireland
2. Papua New Guinea
3. New Zealand
4. Denmark
5. USA
6. Great Britain
7. Samoa
8. Nauru
9. Canada
10. Japan
11. South Africa
Following the tournament a world team was named, selecting some of the best players from the fortnight. The side (unplaced) was:
STEFAN LEYHANE (Canada - Broadview Hawks)
ERIC KROLMARK (Denmark - North Copenhagen)
MOGENS HANSEN (Denmark - North Copenhagen)
JOHN BOYLE (Great Britain - West London)
BEN REES (Great Britain - Sussex)
MICHAEL JOHNSON (Ireland - Belfast Redbacks)
AARON FLOOD (Ireland - Midland Tigers)
LIAM O'CONNOR (Ireland - Leeside Lions)
DAVID STYNES (Ireland - Dublin Demons)
YUTA KOBAYASI (Japan - Tokyo Goannas)
ALFRED SPANNER (Nauru - Menaida)
QUINSON COOK (Nauru - Menaida)
VINCE SERCI (New Zealand - Eastern Suburbs)
STEVE FROGGATT (New Zealand - Univsersity)
MIKE SEVERSINSEN (New Zealand - Eastern Suburbs)
WALTER YANGOMINA (Papua New Guinea - Enga)
JOHN BOSKO (Papua New Guinea - Morobe)
NAVU MAHA (Papua New Guinea - Central)
OVERA GIBSON (Papua New Guinea - Gulf)
FIA TOOTOO (Samoa - Clayton)
MIKA RESAMINO (Samoa - Fasitoo-Uta Tigers)
MTUTUZELI HLOMELA (South Africa - Johannesburg)
CHARLEY ELLIS (United States - Denver Bulldogs)
CHAD MARTIN (United States - Phoenix Scorpions)
The event was a big success for footy's first attempt at such a world tournament. Ireland were certainly the surprise of the series (although they had shown excellent form leading into it). On the flip side, Canada probably underperformed, and Japan and South Africa went without wins. All that is history now, and the 2005 Cup will no doubt see some changes in the international football hierarchy. A great deal more information on the 2002 International Cup can be found at the AFL website:
AFL - International Cup