Convicts to tour Africa
Wednesday, August 04 2004 @ 02:20 pm ACST
Contributed by: Brett Northey

World Footy News recently did a short interview with Brian Clarke (pictured), regarding the touring Convicts concept.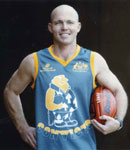 WFN: Brian (pictured right), tell us a bit about the Convicts tour of 2003 - how did it come about and where did you go?
Brian: The Australian Convicts were created in response to the growing demand by international clubs to play Australian teams. With this in mind the Convicts, made up of amateur players from around the country, were formed in 2003 and played three matches in London, Madrid and Frankfurt. It was a sensational trip – the opportunity to represent your country playing the world's greatest game.
WFN: What purpose do you see the tours serving?
Brian: The main purpose is to give international teams a taste of the standard they should be trying to achieve. It is not going to happen overnight, of course, but you are not going to get better by playing teams of a lesser standard. A secondary purpose is to use the high profile of the Convicts to promote the fact that Australian football is now an international game.
WFN: In 2004 you were planning on expanding to do 3 tours, to North America, Europe and Africa. The first two aren't going ahead, which has no doubt disappointed a lot of players and administrators in the tour countries. Can you tell us what happened?
Brian: Yes, it is unfortunate. Earlier this year we entered into an arrangement with Australian Sports Tours to look after the travel component of the tours. In return for printing the tour brochures they insisted on a hefty markup that proved to be the downfall of both tours. The feedback we got for both tours was consistent – "great tour and I would love to go, but it is too expensive". We are hoping to have both tours up and running in 2005.
WFN: You still intend running an African tour in November. You're looking for footballers from around Australia to get in touch with you. But you've also mentioned that guys based overseas can join up. How would that work and can they be non-Australian?
Brian: For the South African tour anyone based overseas, whether in London or the USA etc. is welcome to join us. We have a land based package for anyone who would like to meet us in Johannesburg. South Africa competed in the 2002 Australian Football International Cup in Melbourne, but the Convicts tour is the first time an Australian representative team will compete on African soil – so it is a fantastic chance to be a unique part of history.
Pictured below are the Convicts logo and the 2003 team with the Sussex Swans (UK).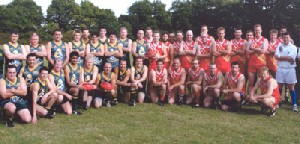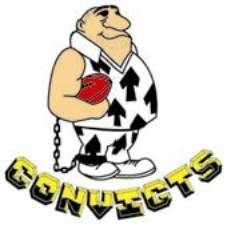 Comments (0)
---
World Footy News
http://www.worldfootynews.com/article.php/20040803215057896