Welcome to World Footy News
Monday, July 26 2004 @ 06:45 pm ACST
Contributed by: Aaron Richard
Views: 7,676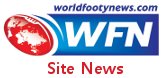 Welcome to World Footy News - independent news and views from the international Australian Rules Football community.
World Footy News was created to foster awareness of Australian Rules Football ('footy' to those in its traditional homelands of southern and western Australia) around the globe and to aid communication between clubs, leagues and individuals playing and supporting Aussie Rules. Note that we do not seek to cover general football news within Australia, as there are numerous websites and other media dedicated to that.
We aim to provide independent news. Articles are moderated before posting. Our main regions of responsibility are:
Aaron Richard - Europe editor and site admin
Brett Northey - North America, Africa and Oceania editor
Jake Anson - Ireland and the UK editor
Julian Clark - Asia correspondent
Matt Morris - Tonga and Fiji correspondent
Wayne Kraska - Eastern USA correspondent

(Updated 19/08/04)

Feel free to contact them with any queries you may have (email addresses will be added soon, but for now, click on the name of the story author).
We also gratefully acknowledge the assistance of other individuals who have contributed to the site - their names appear on stories that they have submitted - but also to everyone who has passed on information that has allowed us to compile the news.
Browse through the site, and if you have something to contribute feel free to write an article for us or add a link! We request that when submitting an article, please create an account using something similar to your real name, and fill in the details so we can confirm who you are.
Please be aware that this is a brand new site, and improvements will be made over time. Thankyou for your support.